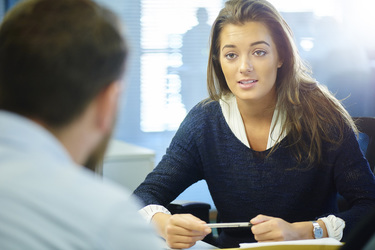 ​​coAim also offer a broad range of interpersonal skills online training courses. So what do we mean by interpersonal skills? Interpersonal skills enable the qualities, behaviours and attributes needed to succeed in the workplace. They encompass an individual's ability to listen well, communicate effectively, be positive, manage conflict, accept responsibility, show respect, build trust, work well with others, manage time effectively, accept criticism, work under pressure, be likeable, and demonstrate good manners.

Interpersonal skills are now recognised as key to making organisations more effective and better places to work. Increasingly, organisations aren't just assessing their current staff and future recruits on their professional knowledge and skills. They are now assessing them on a whole host of interpersonal skill competencies around how well they relate and communicate to others.

They also want them to have equally well-honed written skills so that their correspondence, including emails, doesn't undo all the good work their face-to-face communication creates. Good interpersonal skills also include the ability of people to balance the needs of their organisation with the individual needs of their staff. Being flexible and able to adapt to the changing needs of an organisation also qualify as interpersonal skills. In addition, being able to collaborate with others and influence situations through lateral and more creative thinking also counts as interpersonal skills.
---
---
---
| Name of Course | Method of Delivery | Cost |
| --- | --- | --- |
| Anger Management | eLearning - online | €49.95 |
| Assertiveness and Self Confidence | eLearning - online | €49.95 |
| Body Language Basics | eLearning - online | €49.95 |
| Change Management | eLearning - online | €49.95 |
| Coaching and Mentoring | eLearning - online | €49.95 |
| Communication Strategies | eLearning - online | €49.95 |
| Conflict Resolution | eLearning - online | €49.95 |
| Creating a Great Webinar | eLearning - online | €49.95 |
| Critical Thinking | eLearning - online | €49.95 |
| Customer Service | eLearning - online | €49.95 |
| Delivering Constructive Criticism | eLearning - online | €49.95 |
| Developing Creativity | eLearning - online | €49.95 |
| Emotional Intelligence | eLearning - online | €49.95 |
| Employee Motivation | eLearning - online | €49.95 |
| Facilitation Skills | eLearning - online | €49.95 |
| Meetings Management | eLearning - online | €49.95 |
| Negotiation Skills | eLearning - online | €49.95 |
| Organisational Skills | eLearning - online | €49.95 |
| Presentation Skills | eLearning - online | €49.95 |
| Risk Assessment and Risk Management | eLearning - online | €49.95 |
| Stress Management | eLearning - online | €49.95 |
| Supervising Others | eLearning - online | €49.95 |
| Team Work and Team Building | eLearning - online | €49.95 |
| Train the Trainer | eLearning - online | €49.95 |
| Workplace Harassment | eLearning - online | €49.95 |
| Workplace Violence | eLearning - online | €49.95 |